Getting Started
PI Expert Online is a web application for creating and editing Power Supply designs.
Introduction
PI Expert Online is a web-application that integrates the efficiency and rich functionality of the well-known desktop programs PI Expert and PI Xls with the power, convenience and modern design of Internet-based software. If you used to work with PI Expert and PIXls you won't find any difficulties adapting to the web based application.
All you need to get started use an Internet Browser such as Internet Explorer, Google Chrome, or Firefox.
Notes:
1. You must have cookies enabled in your Internet Browser to start working with PIExpert Online. See Appendix for more information.
2. Your session will expire after 24 minutes of inactivity.
3. To navigate between PIExpert Online pages please use the links on the top of the program window. Please don't use the browser's back button; it is not supported by the application.  
4. Please use a single browser to log in and work with PIExpert Online during a session. The program does not support simultaneous work in different browsers for the same user. For instance, if you logged in with Firefox you cannot continue your work in Internet Explorer.
Login Procedure
If you are already registered on Power Integrations web site you can use your credentials for logging to PI Expert Online. Otherwise you are welcome to create your account and start working with the program.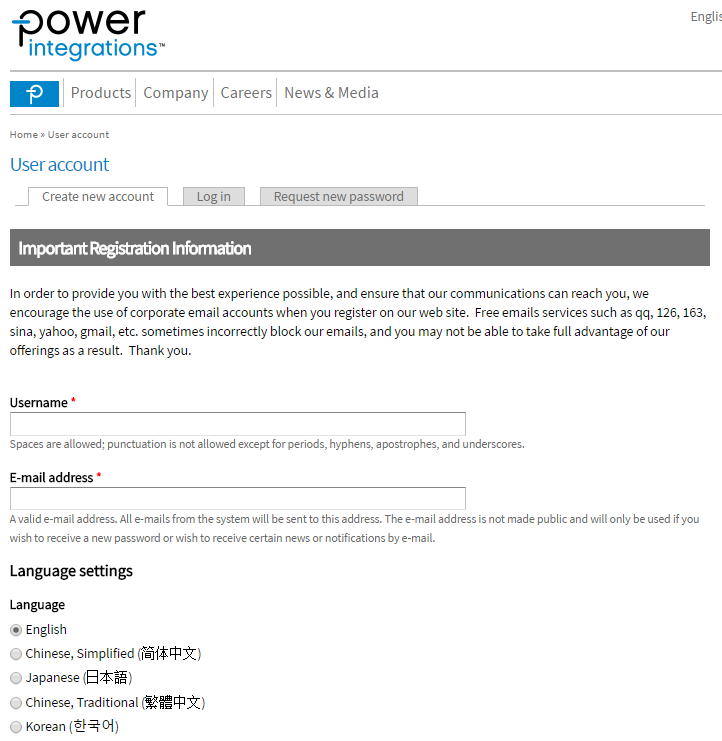 After registering on the Power Integrations web site you will be able to login using your user name and password.
Start Page
With PI Expert Online user can create Power Supply designs (known as *.uds and *.pixls files for desktop applications PI Expert and PIXls ). Power Supply designs are created on the server and can be downloaded on your computer with the help of File Manager. Each user gets their personal file space for the designs on the site.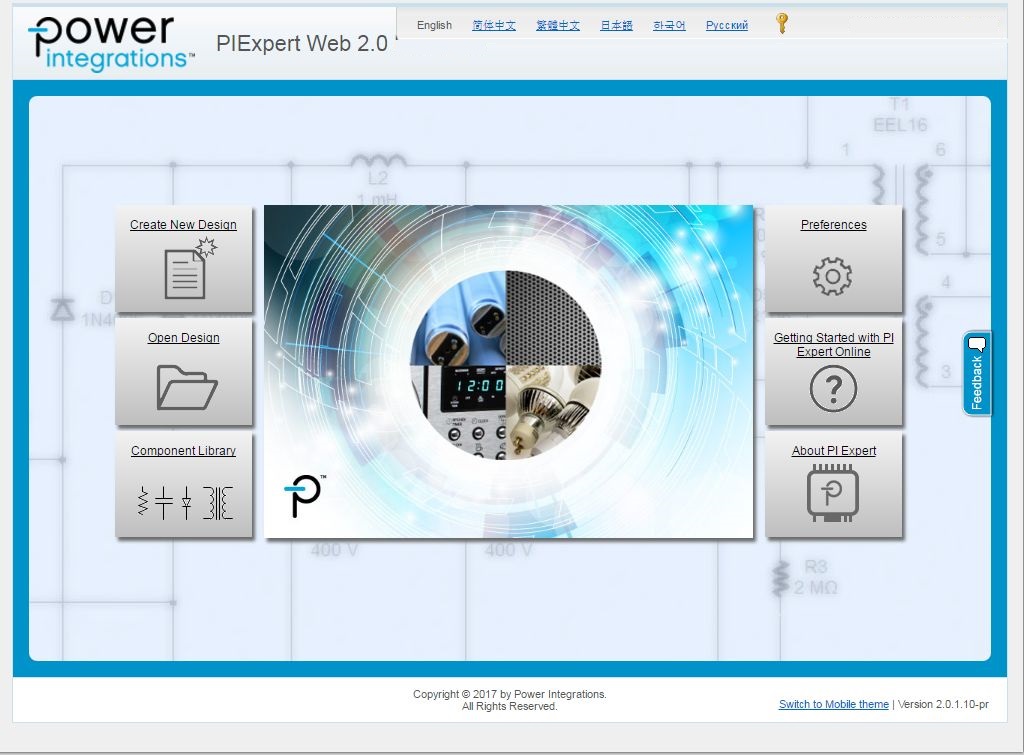 Create New Design button starts the Product Portfolio dialog form. In the Product Filter section you can filter PI products by parameters. Help Me Choose option helps you select the best PI product family for Power Supply design that will match your specified parameters.

Open Design button leads you to File Manager.

Component Library allows you to add and modify PI Expert design components. PI Expert supports multiple Component Sets. Component Sets make easy component selection process for your design. You can create different sets to use in designs for different applications and customers.

Preferences helps you to specify or check the settings that will be used by default when designs creation.

Getting Started with PI Expert Online - Here you are.

About PI Expert gives you info about PI Expert Application and contact information.

 In User Feedback Feature you may rate PI Expert Online and help us to improve our Application with your feedback.

Activate Product Key allows you enter a product key and gain access to special products.
Power Supply Design Creation
The Create New Design button opens Product Portfolio dialog box where you may choose whether to select PI product family or use Help Me Choose feature to help you select the best PI product family for Power Supply design that will match your specified parameters. To activate Help Me Choose feature you need to specify an Application Type and Total PO range in Product Filter section. Then select whether you want to open the design in PI Expert or PI Xls web interface. For some product families you can select either PI Expert or PI Xls; for other families only PI Xls application is available.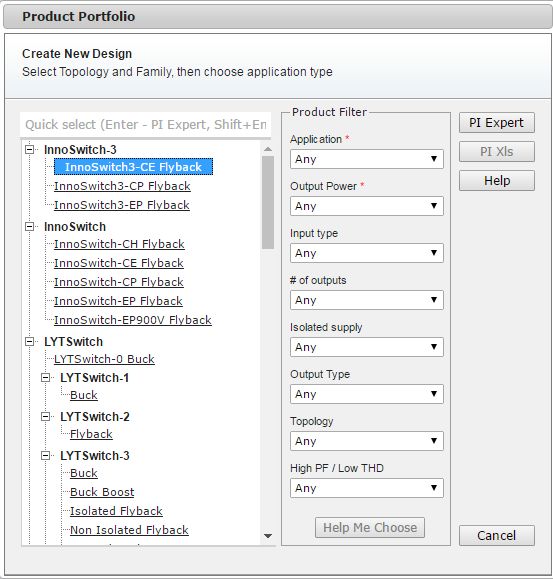 If you select PI Expert to create design, New Design Wizard form appears. After completing the wizard, you can work with your design in the similar way as with the desktop PI Expert application.
Appendix
What are cookies and why do we use them?
A 'cookie' is a small file containing a string of characters that is sent to your computer when you visit a web site. Power Integrations' cookies do not contain any personal information and are used for these reasons: (1) we use session cookies to keep track of temporary information. For example, cookies keep track of the files that you upload; (2) to remember you when you login to the places on our site which require Membership or where you have previously given us information; (3) to help us understand the size of our audience and traffic patterns; and (4) to deliver information to you specific to your interests.
Power Integrations wants to be sure you understand that accepting a cookie in no way gives us access to your computer or any personal information about you, other than the data that you chose to share with us. Only power.com can read the cookie set by power.com, and power.com cannot read cookies set by other sites.
Please read the detailed information about cookies at:
http://www.microsoft.com/info/cookies.mspx

http://en.wikipedia.org/wiki/HTTP_cookie
Below is description of how to enable cookies in Internet Explorer. Please refer to your browser documentation to get information on how to enable cookies in the browser you are using.
Enabling cookies in Internet Explorer 10.0
1. Click on the gear-wheel icon at the top right of the browser window.
2. Click Internet Options.
3. Click the Privacy tab.
You now have two options depending on how much you want to restrict cookies:
Automatic cookie handling

Restrict to selective sites (click Sites)
1. Set the slider to "Medium"
This should be enough to enable cookies on power.com, but it is recommended to add power.com to the Sites list. To do this, click Sites.
2. Enter "power.com" in the Address of the website box.
3. Click Allow.
4. Click OK.
5. Click OK.
Note: using this method you will have to enable cookies for every site you need them on.
6. Set the slider to High.
7. Click Sites.
8. Enter "power.com" in the "Address of the website:" input.
9. Click Allow.
10. Click OK.
11. Click OK.